Specialty Coffee Advent Calendar – 2020
Dec 9
Alma Negra (Black Soul)
Producer: Oscar and Francisca Chacón – Las Lajas
Origin: Costa Rica
Roaster: Ild og Bønner Kaffebrenneri
Cultivar: Caturra, Catuai
Process: Natural
Altitude: 1300-1500 masl
Taste Profile: Heavy, Tropical fruits (melon, pineapple), black tea, dark chocolate. Almost like rum when chilled
Roast Date: 23.11.2020
Dona Francisca and Don Oscar Chacon of Las Lajas micromill are third-generation coffee producers in their family.
They inherited their farms from their grandparents, and are known for being among the first to process high-quality Honeys and Naturals in Central America, and for participating in the Cup of Excellence auction in 2009.
Las Lajas is an organic micromill located in Sabanilla de Alajuela in the Central Valley region of Costa Rica. Organic coffee in Costa Rica is almost nonexistent, and with this caliber of cup makes it one of a kind; they believe in the preservation of the environment hence their organic practices. Las Lajas processes coffee from their family farms'; these lots are fully traceable and separated by day. Water use is minimal, since the coffee is not washed. During the harvest, Francisca will measure the Brix content in the coffee cherry to determine the optimal time to pick the coffee. 21–22% Brix content has been the maximum they've seen.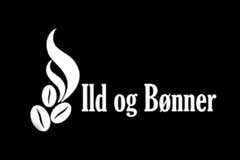 Ild og Bønner Kaffebrenneri
(translation: Fire and Beans Coffee Roastery)

Location: Porsgrunn, Norway (2hrs south of Oslo)
Webshop: ildogbonner.no
Social: Insta @ild_og_bonner FB: @ildogbonner
Roaster: Petroncini TT 5/10

A small specialty coffee roastery located in Porsgrunn, Norway around two hours south of Oslo. Sourcing ethically and roasting carefully to take care of the product we source as best we can.   Currently still a one man show. I/Joel am an Australian now based in Norway. Originally a chef, so I've worked with flavour, aroma and balance since I was 15 years old. I certainly hope that I manage to carry this over into the coffees that leave the roastery.