Dec 6
2015 Specialty Coffee Advent Calendar
Suke Quto – Love Coffee Roasters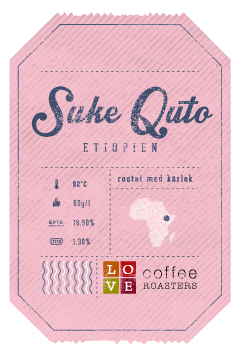 Origin: Ethiopia, Oromia region, Guji zone
Producer: Suke Quto Farm
Cultivar: Kurume & Welicho
Altitude: 2200 masl
Harvest date: Jan/Feb
Process: Pulped natural
Roaste date: 18 Nov
Roaster: Love Coffee Roasters
Taste profile: Smooth body, sweet, apricots, lemon, bergamot, coffee cherry, cinnamon.
We´ve worked with Suke Quto for three years now and are always very impressed by the quality they deliver. We´ve had the washed and the natural coffees before but this year, after a visit to Colombia, Tesfaye (owner) decided to try processing a pulp-natural lot. This is very unusual coming from Ethiopia and the result is very impressive. And fun.
Love Coffee Roasters
We´ve been in specialty coffee for about 16 years and love everything about it. We roast and brew our coffees in Lund, Sweden since 2009. We always rely on what we taste and believe in quality, craftsmanship and responsibility as a foundation for what we do. Good coffee is for everyone.