Specialty Coffee Advent Calendar – 2021
Dec 13
Ruby Batian MK2
Producer: Macho & Ivica Cvetanovski
Origin: Meru, Kenya
Roaster: Coffea Circulor
Cultivar: Batian
Process: Natural, Hypoxia, PureProcess
Altitude: 1500 masl
Taste Profile: Black currant, strawberry, yellow plum
Roast Date: 19.11.2021
Today, Kenyan coffee producers are bringing their cherries to a washing station. Each "lot" or the ripe cherries the producer is bringing is not separated by the specific "lot". All cherries are collectively processed from other lots of producers as well. As far as we know, few or no washing stations are keeping track of which farmers are contributing with SLs, Ruiru 11, K7, Batian or alike. Therefore, when you see "third wave Kenyan coffee bags" expressing "SL28 and Ruiru 11", it is very difficult to identify the specific percentage of each contributing variety and its final affect on sensory evaluation.
We went back to our origin, inception and birth, Meru. Our ambition was to initiate a growing program focusing on natural and experimental processing. The effect will be to lower production costs and minimize water usage for coffee production in a country that traditionally does not employ natural drying techniques. Macho and Ivica set out to generate a simple yet pure and efficient protocol to implement and preserve the flavor in the coffee cherries which transport into the green beans. The processing employs a cherry hypoxia-state to accelerate the initial fermentation over a short period of time, something we call extended aroma transport.
Our World Brewers Cup recipe, One (1:1:1), for Hario V60-01/02 with Hario VCF-01/02 filters:
Coffee: 20g.
Water: 300g @ 93-95°C, TDS: 10-50 mg/l.
100g of 20 second pours in 3 total pours at 0:00, 1:00 and last pour at 2:00. Finish at 3:00.
Pour by pulsing in helix formation during 20 seconds, starting from the centre, 5 revolutions per pulse. Ensure no grinds persist on the filter wall in the last pouring pulse.
At 01:00, 02:00 and 03:00, confirm the filter bed is flat and uniform. Avoid generating cavities and craters.
Target a TDS reading of 1.40±0.02.
Adjust only grind size and water temperature.
Grinding: Target 600-800μm. Example: 28 turns from the finest setting on Comandante.
If the flow ends past each minute, adjust your grind settings to finer and respectively for slower flow.
The recipe, technique and formula is singularly linear and time efficient. Learn more about linearly up- and downscaling our recipe here.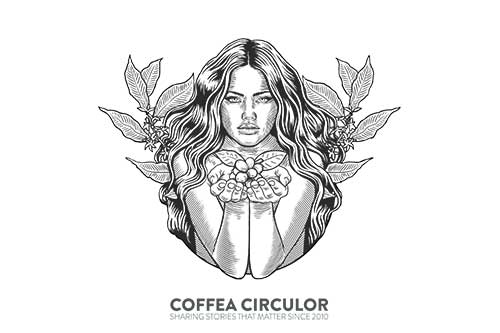 Coffea Circulor
We believe it is important to take responsibility for how people, the environment and the society are affected by our daily choices and operations. We developed our goals early in 2009 before even acquiring a coffee roaster. Through our past work in the UN-system, we ensure our ambition, intention and ideology is anchored in UN's Sustainable Development Goals.
Our potential lies in our ability to influence our clients and their users by telling stories that matter. We contribute to profitability and sustainable development through cost savings, optimization of the coffee value chain and above all reducing the consumption of finite resources.
We actively strive to reduce our own impact on the environment by having an open dialogue about what is important from a sustainability perspective related to coffee. We believe you can make an important difference too. Ending poverty does not only entail finances. There is a larger barrier to tackle such as inequality, knowledge and respect.Read more about Coffea Circulor's endeavor of sustainable production
http://www.coffeacirculor.com/
Loved this coffee?