Specialty Coffee Advent Calendar – 2020
Dec 1
Kianyaga AA
Producer: New Ngariama Farmers Cooperative Society
Origin: Kirinyaga, Kenya
Roaster: da Matteo
Cultivar: SL28, SL34, Ruiru 11, Batian
Process: Washed
Altitude: 1750 masl
Taste Profile: Elegant, with notes of raspberry, peach and lemonzest
Roast Date: 16.11.2020
Kenya is one of the typical origins where it's hard to trace the beans down to a single farm or producer. Most farms are smaller and grow other crops as well as coffeebeans. The coffee is transported to a cooperative mill, where the beans are sorted and the farms get their payment after the coffee is weighted. The Kianamui factory serves about 1 800 smallholder coffee farmers, who are members of the New Ngariama Farmers Cooperative Society, about 600 of whom are women. Farmers in the area grow grevillea, macadamia nuts, eucalyptus, tea, corn and bananas in addition to coffee. Banana palms are specially good to use near coffee farms, as the large leaves provide shadow to the young coffee plants.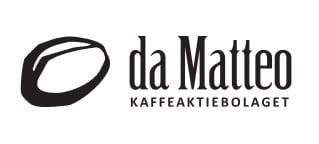 da Matteo
Location: Gothenburg, Sweden
Established: 2007
Roaster: Loring 35 kg
Social: @damatteocoffee
We want more people to drink good coffee. We try to accomplish this through handicraft, openness and participaton. In this way, we are building a good coffee culture.
We are a speciality coffee roastery locally based in a cultural environment, in the heart of Gothenburg. We have an open production area where everyone is invited to observe the process behind the coffee. We buy our coffee from producers who care not only about the quality of the coffee, but also about the farm itself and their employees. When the coffee is delivered to our roastery, we roast it in our environmentally friendly roaster, where we have the best opportunities to do it justice. All for a better coffee culture.
We are located on Magasinsgatan 17A in Gothenburg, Sweden. Please stop by to feel the coffee sacks, talk about coffee and see how the production works!