Specialty Coffee Advent Calendar – 2019
Dec 14
Ethiopia Gesha Village
Producer: Gesha Village
Origin: Gesha Village, Bench Maji, Ethiopia
Roaster: Jacu
Cultivar: Gesha
Process: Natural
Altitude: 1900-2100 masl
Taste Profile: Strawberries, blueberries and Jasmin
Roast Date: 21.11.19
Near the border of South Sudan, you find the wild, dense, and stunning forests of the Bench Maji zone. Home to the radiant Gesha variety. A coffee that has the power to astonish coffee drinkers around the globe with sparkling clean profiles.
While producing a documentary about Ethiopian coffee, Rachel Samuel and Adam Overton developed a passion for coffee. They fell in love with Ethiopia, its people, and the coffee. With the guidance of Willem Boot, Rachel and Adam brought the Gesha variety home and rekindled the legend.
Gesha Village was found by Rachel and Adam six years ago near the birth ground where the famed Panamanian Geisha was discovered. A 471-hectare farm with high elevation, ample rainfall, temperate climates, and fruitful ground. Rachel and Adam started to select wild Gesha plants from the Gori Gesha forest and planted these among the indigenous trees.
2000 coffee trees per hectare were paired with more than 30.000 native shade trees. Their agroforestry farming approach creates a balance between the original environment and the commercial management of the farm.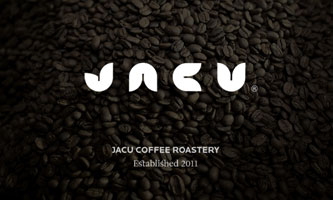 Jacu
Location: Ålesund, Norway
Established: 2011
Roaster: Loring Kestrel 35
Social: @jacucoffeeroastery
Jacu was established in 2011 in Ålesund. With a background in art and design, Oliver and Anne Birte moved home to Western Norway. At the same time, Gunnar had become very interested in coffee and coffee roasting. Together, these three established a small roastery in their hometown.
The roastery has been in operation for 9 years and has established itself in the middle of the city in a closed power station. Jacu roasts their coffee using a Loring kestrel s35.
The roastery supplies coffee to shops and cafes throughout Norway and a few countries abroad.
Jacu's primary focus is on coffee production and quality, occasionally however, renowned artists exhibit in the roastery and every Friday from 10-13 is open to the public to take a tour and taste the week's production.