Specialty Coffee Advent Calendar – 2021
Dec 18
Dumerso Natural
Producer: Dumerso Smallholders
Origin: Yirgacheffe, Ethiopia
Roaster: Supreme Roastworks
Cultivar: Heirloom
Process: Natural, Anaerobic
Altitude: 2000 masl
Taste Profile: Fresh and Fruity. Spices. Raspberry and papaya
Roast Date: 22.11.2021
Privately owned communal wet mill in Dumerso, collecting cherries from various smallholders. This is a wet mill producing 40% Natural Sundried Coffees and 60% washed. The producer is part of a project to do improved quality preparation of Grade -1 for both washed and Natural Sundried. They are actively working on traceability, lot separation and quality improvement.
The farmers:
About 700 smallholder farmers delivering tiny amounts of cherries daily to the wet miller.
On average farmers are having a farm size of fewer than 1 hectares. Most coffees are organic by default. Organic compost is common, pruning less common. A farmer can typically have less than 1500 trees per hectare, and 1 tree is typically producing cherries equal to less than 100 – 200 grams of green coffee.
Cultivars:
A mix of local variety's. Such as native coffee of forest origin transferred to family smallholder plots. The varieties are referred to collectively as Ethiopian Heirloom, which is a myriad of local native Typica hybrids and new improved varietals based on the old strains.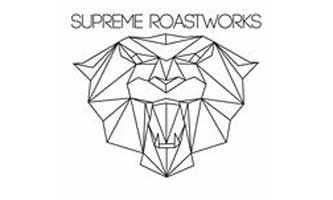 Supreme Roastworks
Supreme Roastworks is a café and roastery in the Norwegian capital, home of some of the best coffee roasters in the world. After operating as a roastery and working solely through wholesale accounts with restaurants, cafés, and offices around the city since 2008, opened its first retail space in hip Grünerløkka in early 2013, (Thorvald Meyers gate 18). This location host both coffee-shop and roastery.
1st of July 2021, Supreme Roastworks joined forces with car-manufacturer Porsche on the seaside at Aker Brygge. Opening a spacious Supreme coffee-shop, a Porsche showroom and fitting lounge. (Stranden 67 Aker Brygge). Best location facing the sea.
Supreme Roastworks is an excellent spot for a quick mid-morning espresso or a slow mid-afternoon pour-over and cinnamon bun. You'll likely find a group of regulars sitting around the bar and catching up with the owners, and the staff will gladly engage in conversation about the coffee. "We love serving our amazing customers and working with people who truly enjoy and understand our concept and philosophy," says Magnus. As they like to say: no fuss–just great coffee.
Loved this coffee?