Specialty Coffee Advent Calendar – 2018
Dec 16
Alaka Organic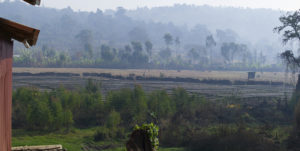 Producer: METAD Agricultural Development
Origin: Guji, Ethiopia
Roaster: Coffee Collective
Cultivar:  Ethiopian heirloom
Process: Washed
Altitude: 2000-2200 masl
Harvest: November – December
Taste Profile: Balanced, creamy body with finely attuned acidity. Peach, orange and bergamot in the aroma. Organic.
Roast Date: 21.11.18
The washing station Alaka is located in the Guji region where farmers near the village Benti Nenqa have supplied coffee beans for this lot. These are wild arabica varieties from the birthplace of coffee, grown organically in 2000 to 2200 moh and harvested in January 2018.
Alaka is part of the family-owned company Metad, run by three brothers; Aman, Tariku and Michael. They share a clear devotion to helping farmers produce better quality and implement sustainable practices. The coffee is certified organic and Metad offer education and technical assistance to the farmers.
We have paid 286% above market price ($4.95 /lbs FOB). Roasted light.

The Coffee Collective
Location: Copenhagen, Denmark
Established: 2007
Roaster: Loring 30kg
Social: #coffeecollective @coffeecollectif
Roasters
Samuli Marila:
Been brewing, roasting and packing for many years. The lucky two time Danish cuptasting champion.
Also had the fortune to travel to Latin America numerous times in search of tasty beans.Jakob Dupont:
I have been packing, roasting and cupping since 2005.
At Estate Coffee from 2005-2012.
Then at Coffee Collective.George Leong:
First introduced to Coffee while hanging out at a family run cafe, and immediately took interest and delved into it while studying. Later I figured I would make working with coffee my full time pursuit because it was an incredibly interesting industry to be apart of.
After working as a Barista in Perth at a few different venues I decided to try living abroad in Copenhagen which led to me working for The Coffee Collective as a Barista. Eventually the opportunity to work as a production team came up, something I had always wanted to do. Its been close to a year now since then and I'm really enjoying learning more each day about the process of roasting coffee.Casper Rasmussen:
Roaster and co-founder of Coffee Collective.