Specialty Coffee Advent Calendar – 2018
Dec 12
Uraga Samii
Producer: 3000 small holder farmers
Origin: Guji, Oromia, Ethiopia
Roaster: Koppi
Cultivar: Ethiopian Heirlom
Process: Wet fermented, washed and dried under shade on raised beds.
Taste Profile: Papaya, cherry candy, lemon verbena
Roast Date: 21.11.18
The washing station is owned by Israel Degfa and is Organic, RFA and UTZ certified. Israel Degfa is a young business man in Ethiopia with a sure and steady focus. He owns thirteen washing stations and one farm, across the South and South West of Ethiopia. Over the last years Israel has shifted his focus from volume to quality, and is working on improving the quality of processing across his washing stations as priority.
Many of Israel's washing stations are great just because of the location, soil and altitude, but he is also investing in better systems, structure and protocols at the washing stations. He has invested in flotation systems for the cherries and systematically separate some of the coffees for better performance on site. These coffees are taken better care of by an assigned quality team. At Uraga Samii, Israel has invested in raised tables covered with a shade construction that allows the coffee to be dried either in full shade, semi-shade or full sun.
All coffee is picked by hand and brought to the washing station to be processed. The average farm size is 2,5 hectares with 1500 trees on each hectare. Each tree yields an annual 100-200grams of coffee which means that the average household produce 375-750 kilos of coffee per year.
At Uraga Samii the workers go through the cherries by hand to sort out unripe and overripe cherries before they go into production. The cherries are pulped by a disk pulper and graded in to 1st and 2nd quality in the pulpers density channels. After that the coffee is fermented under water for about 48 hours, depending on the weather conditions. The coffee is graded in the washing channels by water flow that again separates the coffee by density. Its then soaked 6 – 24 hrs in fresh, clean water before it's moved to the drying tables. The parchments is dried in the sun for about 12 – 15 days, depending on the weather on raised African drying beds. For the premium grades they will continuously sort the parchment at the drying tables. Coffees are covered by shade nets during midday and overnight.
Nordic Approach are working with four washing stations where Israel is now certifying the producers and giving them a second payment. The average farm size of one producer is only 1 hectar so the premiums payed make a big difference for the families. Based on the premiums we are paying, Israel is also investing in schools in several of the local communities. This coffee has a very unique flavour profile belonging to this region that we are excited to showcase.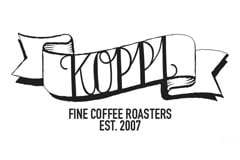 Koppi
Location: Helsingborg, Sweden
Established: 2007
Roaster: Diedrich IR 12
social: @koppi_roasters
Great coffee doesn't become great by chance and at Koppi we strive to bring out the best in each bean. This video offers insight into how we work and what drives us to follow the coffee from soil to brewed cup.