Dec 16
2015 Specialty Coffee Advent Calendar
Nyaruzina – Lippe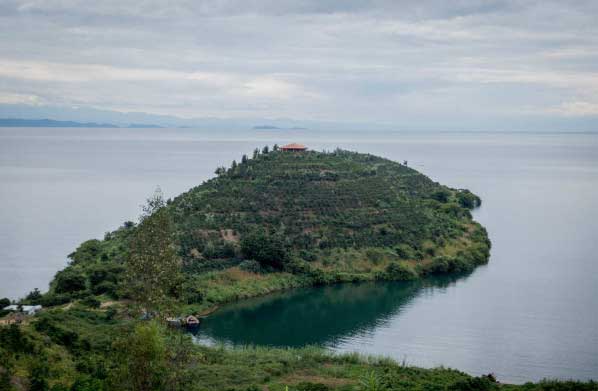 Origin: Nyaruzina, Nyamasheke, Rwanda
Producer: Umwizeye Furaha, Nyaruzina Farm
Elevation: 1700-2000 masl
Cultivar: Bourbon
Process: Washed
Roast Date: 24 Nov
Roaster: Lippe
Taste Profile: Aromas of citrus, currants and passion fruit. The cup presents tropical fruits, red berries, marzipan and milk chocolate. The coffee is well structured and medium-bodied. The aftertaste is long, with notes of fruits and chocolates
Our microlot Nyaruzina comes from the farm of the same name in the region Nyamasheke. Nyamasheke is located along Lake Kivu in the Western Province on the border with the Democratic Republic of Congo. This region is known for coffee that is grown higher than in the rest of the country, and in nutrient-rich, volcanic soil that is perfect for coffee cultivation. The entire farm is 16 hectares, which is unusual in Rwanda. Most coffee farmers in Rwanda are small-scale farms with 250-300 trees each, while the Nyaruzina has 15,000 trees. The farm is owned by a woman named Umwizeye Furaha, which also is unusual in Rwanda. Currently Furaha leases a wet mill nearby but for next season she will build her own mill to process the coffee on.
The coffee consists of local, indigenous varieties – largely different varieties of bourbon. The coffee cherries are hand-picked and sorted before they go into production. A pulper removes the skin and flesh, before the coffee is soaked in water overnight. The next day, the coffee washed and sorted again, this time based on the density of the beans, further increasing the quality of the final product. After washing, the coffee is dried 10-15 days on African beds.
Nyaruzina # 140 is a wonderful microlot. We find aromas of citrus, currants and passion fruit. The cup presents tropical fruits, red berries, marzipan and milk chocolate. The coffee is well structured and medium-bodied. The aftertaste is long, with notes of fruits and chocolates.
—-
Vår microlot Nyaruzina kommer fra farmen med samme navn i regionen Nyamasheke. Nyamasheke ligger langs Kivusjøen i Western Province på grensen til den Demokratiske Republikken Kongo. Denne regionen er kjent for kaffe som er dyrket høyere enn i resten av landet, og i næringsrikt, vulkansk jordsmonn som er perfekt for kaffedyrking. Farmen er på hele 16 hektar, noe som er uvanlig i Rwanda. De fleste kaffebøndene i Rwanda er småskala-bønder med 250-300 trær hver, mens man på Nyaruzina har hele 15.000 trær. Farmen eies av en kvinne som heter Umwizeye Furaha, noe som også er uvanlig i Rwanda. For tiden leaser hun en våtmølle i nærområdet, og for neste sesong vil hun bygge sin egen mølle til å prosessere kaffen på. Kaffen består av lokale, stedegne sorter – stor sett forskjellige variasjoner av bourbon. Bærene blir håndplukket og sortert før de går i produksjon. En pulper fjerner skinnet og fruktkjøttet, før kaffen ligger i vann over natten. Neste dag blir kaffen vasket og igjen sortert, denne gang basert på tettheten i bønnene som sier noe om kvaliteten. Etter vaskingen tørkes kaffen i 10-15 dager på afrikanske senger.
Nyaruzina #140 er en fantastisk microlot. Vi finner aroma av sitrus, rips og pasjonsfrukt. I koppen smaker den av tropiske frukter, røde bær, marsipan og melkesjokolade. Kaffen er velstrukturert og har en middels fylde. Ettersmaken er lang, og av frukt og sjokolade.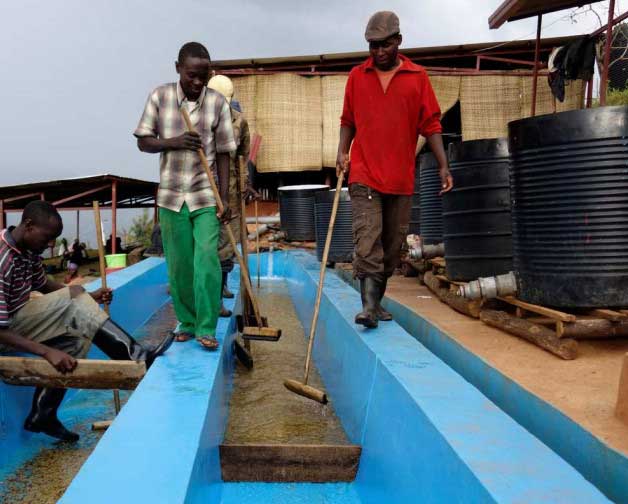 Lippe Coffee Roastery
LIPPE is a small coffee roastery focusing on the raw product, roasting process and knowledge. LIPPE is developed by Pia and Alexander von der Lippe who both have backgrounds in chemistry and biology. By understanding the basic biological and chemical processes from coffee cherry to roasted coffee, LIPPE is able to offer an excellent product processed under optimal circumstances. The customer can be assured that coffee from LIPPE upholds the same high quality and taste profile over time.
—-
LIPPE er et lite kaffebrenneri med fokus på råvare, brenneprosess og kunnskap. LIPPE er utviklet av Pia og Alexander von der Lippe, begge med utdannelse innenfor kjemi og biologi. Gjennom forståelse for de grunnleggende biologiske og kjemiske prosessene fra bær til ferdig brent kaffe, kan LIPPE derfor tilby utmerkede råvarer foredlet under optimale omstendigheter. Kunden skal hele tiden være trygg på at kaffe fra LIPPE holder den samme høye kvaliteten og smaksprofilen over tid.