Dec 4
2015 Specialty Coffee Advent Calendar
Mukunge AA – Love Coffee Roasters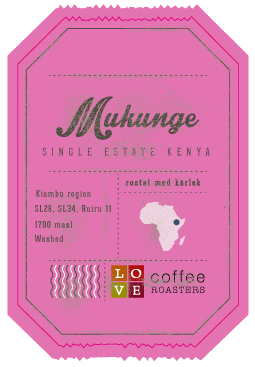 Origin: Kenya, Kiambu region
Producer: Mukunge Factory / Mukunge estate
Cultivar: SL 28, SL 34, Ruiru 11
Altitude:1700 masl
Harvest date: December/ january
Process: Fully washed
Taste profile: Full body, sweet, blackcurrant, raspberries, grapefruit, rhubarb.
Roast date: 18 Nov
Roaster: Love Coffee Roasters
This coffee stood out on the cupping table with it´s distinct and intense character. We love Kenyan coffees, they really represent our own preference of coffee. Clean, crisp and powerful flavours. With Kenya, we choose a new coffee every season and we´re super happy this this years selection.
Love Coffee Roasters
We´ve been in specialty coffee for about 16 years and love everything about it. We roast and brew our coffees in Lund, Sweden since 2009. We always rely on what we taste and believe in quality, craftsmanship and responsibility as a foundation for what we do. Good coffee is for everyone.