This month you'll find da Matteo, a roaster based in the heart of Gothenburg, Sweden, in your KaffeBox. Da Matteo's an establishment with a remarkable history. From pioneering espresso culture in Gothenburg to venturing into coffee roasting and sourdough baking, da Matteo has evolved into a vibrant coffee and bread haven.
Get ready to explore their coffee and how they make it. Let's jump into the world of da Matteo!
If you have the main KaffeBox, you'll be sipping on Filter 1 and Filter 2, if you have the washed subscription, we've sent you Filter 1 and Filter 3.
Filter 1 / Kenya
Coffee Name: Thunguri AA
Taste Profile: Creamy, strawberry jam, lemon curd, nectarine
Origin: Kenya, Kirinyaga
Producer: Kibirigwi Farmers Cooperative Society
Variety: K7, SL-28, Ruiru 11, Batian
Process: Washed
Harvest date: October – December 2022
Altitude: 2500 masl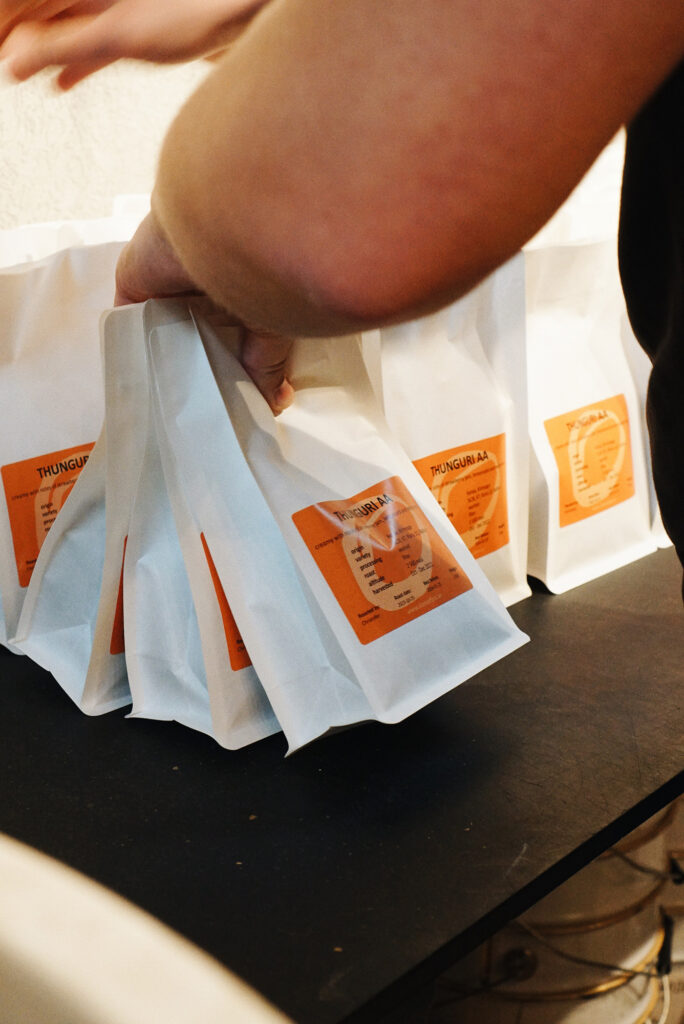 Filter 2 / Ethiopia
Coffee Name: Benti Nenka
Taste Profile: Complex, vanilla, jasmin, starfruit
Origin: Ethiopia, Guji
Producer: Benti Nenka
Variety: Heirloom
Process: Washed
Harvest date: 2023
Altitude: 1900 – 2300 masl
Filter 3 / Honduras
Coffee Name: Julio Garcia
Taste Profile: Clean, milk chocolate, cinnamon, mandarine
Origin: Honduras, San Andres
Producer: Julio Garcia
Variety: Catuai
Process: Washed
Harvest date: February – April 2023
Altitude: 1960 masl
What can you tell us about the coffee you've selected for us this month?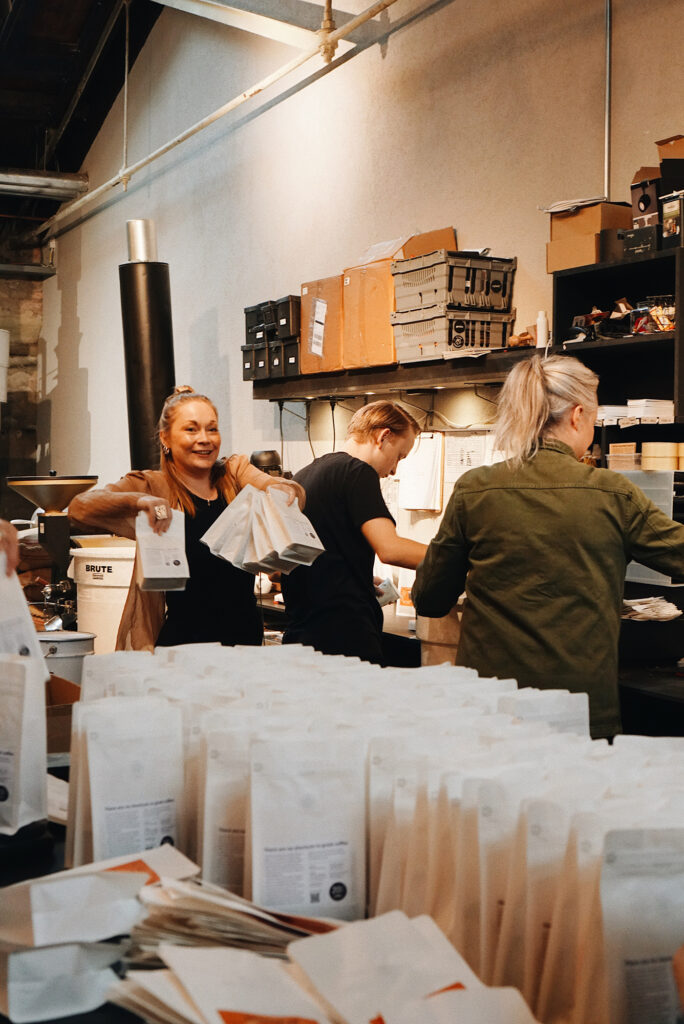 We tried not to complicate it and make it too hard on ourselves, and just choose the best coffee on the cupping table.
– Based on the preferred requirements from the popular Kaffebox of what the process methods should be and what quantity is needed, we could narrow down the sourcing. As a group we went through a lot of coffees and managed to make a collective decision on what we thought was the best cup. We tried not to complicate it and make it too hard on ourselves, and just choose the best coffee on the cupping table. For one of the coffees, we wanted to select a nice natural processed coffee from Ethiopia, but we had difficulties finding something that shined a little extra and were big enough for this occasion on the cupping table. Last season we've bought a lot of nice microlots but this season the same coffees weren't big enough to cover the volumes for the subscription.
Recommended brew recipe for the coffee
– There is a QR code on the backside of each coffee bag. Follow that (or this link) and you'll find a couple of different brew methods and recipes for all coffee. Enjoy!
Can you tell us a little bit about your roastery? 
– Thanks to the environment we've created from many years of being in the café business, as we're celebrating 20 years this year, we have grown in many ways. For instance, we get feedback daily from our baristas, guests and our roastery costumers. A lot of things have changed since we once opened. We've experimented with different concepts, products and ideas, and we've been able to get feedback on majority of this often.
A main goal has been to create an educative environment, were we help customers to understand speciality coffee and the roasting process. How we roast, how we buy green coffee and why it's important to have control and knowledge of every step of the way.
The roastery has been an open welcoming space in our cafés since day one (2007), therefore people can easily see what we're doing, ask us about anything and everything, and show transparently what we do.
How do you source your coffee beans, and what criteria do you use to choose them?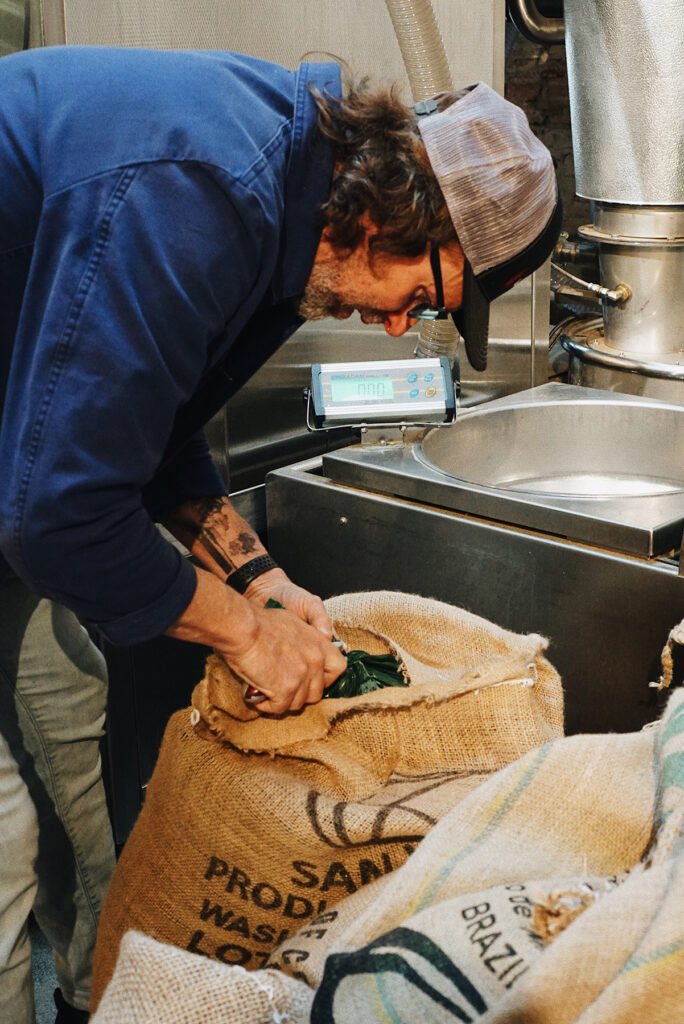 – We work with great partners in this process, such as Ally Coffee, Café Imports and Nordic Approach. When cupping samples of which coffees to buy, we gather the team, choose the coffees on the table that we like the best as a group, and that we know we're proud to serve our customers. 
What are your future plans for your coffee roasting business, and where do you see the industry heading in the next few years?
– As we look forward to the future, we are currently in the middle of rethinking and rebranding our coffee concept. Everything surrounding the way we present and sell our coffees and products will receive a well-deserved update. We want to keep the way we view and profile coffees to be in a "classic" and a "modern" way, amateur or advanced – tailored based on the preferences of our guests and customers. We also want to keep connecting with novice people, as well as with coffee geeks and enthusiasts.
So, we're updating our webshop, our coffee bags and how we define our roastery. We might venture into subscriptions, bundles and offering batches from even smaller microlots and farms and do exclusive releases of some cool coffees.
As for where the industry is heading, we see a lot of movement from companies to high commercial coffees. This is of course due to war, corruption and climate changes, that push the prices for speciality coffee a lot. Hopefully we move closer to a more sustainable market for producers and buyers, so we can keep the prices reasonable.
Apart from your roastery – who's your favorite roaster and why?
– As far as collaborations go, we want to lift up Balck coffee from Kalmar and Gringo from Gothenburg. We absolutely adore working with these guys. When it comes to experience, knowledge, and talent, we need to mention Tim Wendelbo and his team, for time after time sourcing and roasting in a superb manner. They know what pops and they are very skilled cuppers. Big shout out to them.