Specialty Coffee Advent Calendar
Dec 11, 2017
Kayo Natural Lot 3
Producer: Ismal Hassan
Origin: Kayon Mountain, Guji, Ethiopia
Roaster: Good Life Coffee
Cultivar:  Heirloom
Process: Natural
Altitude: 2050 masl
Taste Profile: Great acidity and super raspberry fruit! Sweet. Well structured. Tasting notes of raspberry, blueberry, florals and hops. Smells like raspberry sorbet
Roast Date: 23.11.17
Kayon Mountain Farm is a privately owned and run farm, the farm is owned by Ismal Hassan. Previously farms like this, of this size were unheard of but some years ago the laws in Ethiopia changed and allowed for farms of 50 ha or more to market and sell their coffees directly for export.
Private farms at this size are still not common in Ethiopia. And it's even better when the owners are progressive and committed to do what it takes to produce great quality.
The farm is in the Shakiso area of Guji and in the Kabele, Tarro. It was established as a private farm by Ismal Hassan in 2009 and covers 200 hectares of land. It is managed by Mr Workineh, he is monitering all aspects of the cherry processing and sorting to ensure the production is reaching the best quality possible. They are growing improved varieties from the research institute, 72110, 74158 and 74165. Here they are seperating the produciton into different lots based on time of the harvest, each of the lots is 150 bags of parchment and once milled 100 bags of green.
They have about 200 drying tables, meaning they have a good amount of drying space and room for adjusting the layers according to different methods and preparation. One table can have a maximum of 600 kg of parchment. The temperature can be relatively low, and they give the coffees up to 8 hours with sun pr day. Drying takes from 13- 20 days, depending on the temperature and of course whether the coffee is being washed or naturally processed They have to assigned people for each table constantly moving and sorting the parchment on the tables. When drying the natural coffees they use shade nets to cover the cherry during the hottest parts of the day.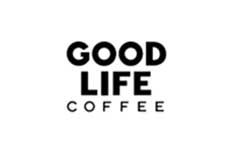 Good Life Coffee
Our idea of good coffee is simple: carefully selected high­grade beans combined with precise procedures and a no­bullshit take on roasting and brewing. Instead of a well­trimmed romantic re­enactment of the artesian 19th century, our coffee is bang on the now. Honest and uncompromising.  Quoting Raekwon of Wu Tang Clan: "We analitical thinkers, we crow with top rankers". We build our roasting profiles according to each bean to get the most out of the quality we've selected. Analytical, diligent and passionate, down to the nitty gritty. The way we see it, life's too short for weak coffee.