Specialty Coffee Advent Calendar – 2018
Dec 9
Granitos
Producer: Calderon Family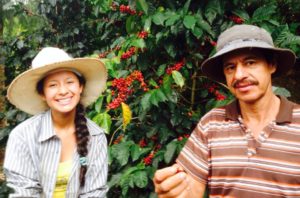 Origin: Tarrazu, Costra Rica
Roaster: La Cabra
Cultivar:  Geisha
Process: White Honey
Altitude: 1600-2100 masl
Harvest: March 2018
Taste Profile: Jasmine, Grapefruit and Apricot.
Roast Date: 20.11.18
To the right is a picture of Omar Calderon and his daughter Diana.  Omar, his wife and their four daughters run Granitos De Ortiz which is beautifully located in Tarrazú. They manage 5 different farms. The 2000 Ortiz (2000), the 1900 Ortiz (1900), La Granadilla (1800), La Casa (1750) and The Nery (1700)
They mostly have Catuai and Caturra Varieties. But they also have some micro lots of Typica and nano lots of Geisha.  The family won the cup of excellence in 2011. At the dinner table they told us of their high expectations of the lot they entered with this year.

La Cabra Coffee Roasters
Location: Aarhus, Denmark
Established: 2013
Roaster: Probat L12
Social: @lacabra #lacabracoffee
We roast with the aim to enhance the innate quality and complexity of these premium coffees, showcasing the work of the producer in the most transparent and delicious way possible. This approach requires that we pay close attention to our raw material when roasting, and that we understand the influence of varietal, terroir and processing conditions. This is a simple approach to coffee, paying attention to green coffee quality above all, and then using roasting and brewing only to highlight the coffee's finest qualities.