Specialty Coffee Advent Calendar
Dec 16, 2017
Finca Los Robles
Producer: Eduardo Martin, Los Robles
Origin: Huehuetenango, Guatemala
Roaster: Good Life Coffee
Cultivar:  Caturra, Bourbon
Process: Fully washed
Altitude: 1500-1700 masl
Taste Profile: fine intense acidity, full body and delightful wine notes
Roast Date: 23.11.17
Back in the early 1940's Eduardo's grandfather purchased a plot of land in the deep mountains in Huehuetenango. This is where Edy, and his brother's work and stay united as family. His Grandfather started planting a few coffee trees months after the land became his. He started out with a few trees of Maragogype, as it was the only varietal he had access to at the time as he was receiving technical support from two organizations operating in the area. They guided him in the plantation, harvesting and care that the coffee plants need yearlong. As the years passed, the production area of the farm grew, as did the culture and love for coffee within the family.
Most of the trees that Eddy's grandfather planted are now gone due to proper management and they now have mostly Bourbon and Caturra varietals as they have found these to be the best for the soil, altitude and climate. Providing them with a good production as well as a great quality cup. We have been working with Edy, the youngest and sharpest member of the family, for over 4 years and we are very pleased with his coffee.
Thanks to dry, hot winds that blow from Mexico's Tehuantepec plain, the Highland Huehuetenango region is protected from frost, which allows for cultivation at extreme altitudes of beans with a fine intense acidity, full body and delightful wine notes present in each of our coffees.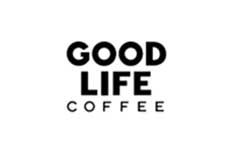 Good Life Coffee
Our idea of good coffee is simple: carefully selected high­grade beans combined with precise procedures and a no­bullshit take on roasting and brewing. Instead of a well­trimmed romantic re­enactment of the artesian 19th century, our coffee is bang on the now. Honest and uncompromising.  Quoting Raekwon of Wu Tang Clan: "We analitical thinkers, we crow with top rankers". We build our roasting profiles according to each bean to get the most out of the quality we've selected. Analytical, diligent and passionate, down to the nitty gritty. The way we see it, life's too short for weak coffee.