Jaime Casallas
Taste: Almonds, apricots – sweet lingering finish
Origin: Gigante, Colombia
Producer: Jaime Casallas
Variety: 90% caturra, Typica, Gesha
Process: Fully washed
Harvest: All year
Altitude: 1560 MASL
Jamie Casallas own the farm El Prado with 4 Ha coffee trees. He mostly grows the Arabica variety Caturra, which is very sweet and round.
Jamie's farm is at 1.560 meters elevation. To ensure a stabile temperature during fermentation, he has built walls surrounding his fermentation- and washing tanks.
We've paid 124% above market price (3.69 usd/lbs FOB) for the high quality, and roasted it to a medium degree to accentuate the balance of this coffee.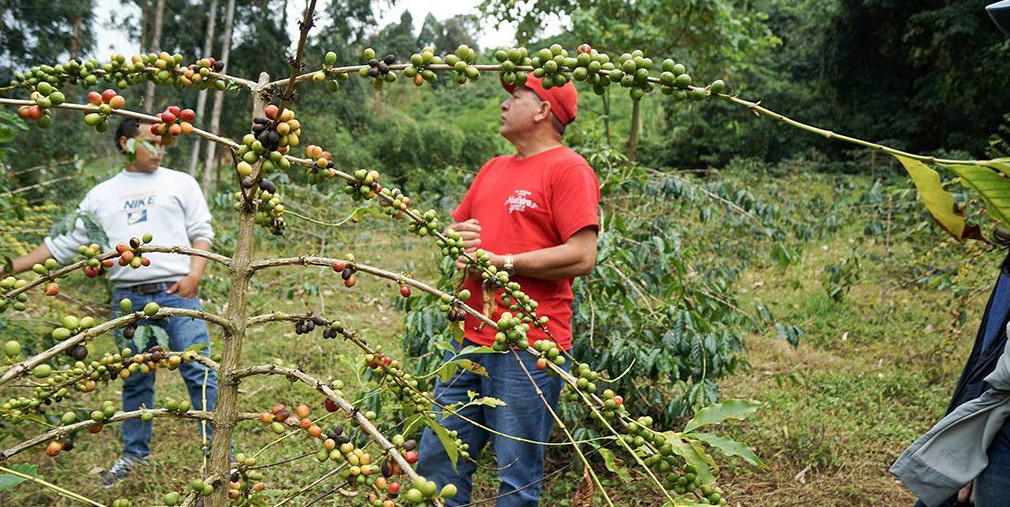 El Desarollo
Taste: Creamy mouthfeel, aromas of peach and green grapes.
Origin: Huila, Colombia
Producer: El Desarollo Association
Variety: Caturra, Colobia and Typica
Process: Fully washed
Harvest: July 2016
Altitude: 1400-1850 MASL
About The Coffee Collective
When we launched The Coffee Collective in 2007, we wanted to form a transparent trade model that would guarantee us the best quality of produce, and guarantee the producers payment that meets that better quality. It goes without saying that producers must be paid accordingly in order to take an interest in raising standards. For that reason, it is basic in Direct Trade that we ensure that surplus charges paid for premium quality reach the producers. Ultimately, our dream is for a coffee farmer in Kenya to obtain the same status and living conditions as a wine grower in France.
When you see the Direct Trade logo on coffee bags, you will know that the following two criteria have been met: 1. The producer is paid at least 25% more than the Fair Trade price. 2. The producer is visited every year by the importer / roaster.