Specialty Coffee Advent Calendar – 2019
Dec 7
Coopetarrazú
NRF COMPETITION COFFEE 2019 – HYBRID
Producer: Coopetarrazu cooperative
Origin: San Marcos, Tarrazu, Costa Rica
Roaster: da Matteo
Cultivar: F1 Centroamericano
Process: Natural
Altitude: 1400-1500 masl
Harvest date: Dec 2018-Feb 2019
Taste Profile: Sweet and juicy with notes of cherries and black tea
Roast Date: 14.11.19
This is our competition coffee for Nordic Roaster 2019 – Category #2. In this category we were given the challenge to source a leaf rust resistant hybrid.
Coopetarrazu is a cooperative that operates in various communities throughout the Tarrazú region of Costa Rica. In addition to offering good prices, resources, and market access to growers, the co-op also has experimental farms on which different varieties, milling processes, drying techniques, and inputs and pesticides can be tested. This lot comes from a collection of farmers who have planted the F1 of a cultivar called Centroamericano that Coopetarrazu has tested on its own farms. F1 is a term for an early generation in the breed, and this particular cultivar is a hybrid of Sarchimor—Villa Sarchi bred with Catimor—and the heirloom variety Rume Sudan.
da Matteo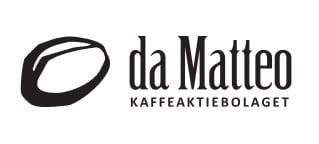 Location: Gothenburg, Sweden
Established: 2007
Roaster: Loring 35 kg
Social: @damatteocoffee
We want more people to drink good coffee. We try to accomplish this through handicraft, openness and participaton. In this way, we are building a good coffee culture.
We are a speciality coffee roastery locally based in a cultural environment, in the heart of Gothenburg. We have an open production area where everyone is invited to observe the process behind the coffee. We buy our coffee from producers who care not only about the quality of the coffee, but also about the farm itself and their employees. When the coffee is delivered to our roastery, we roast it in our environmentally friendly roaster, where we have the best opportunities to do it justice. All for a better coffee culture.
We are located on Magasinsgatan 17A in Gothenburg, Sweden. Please stop by to feel the coffee sacks, talk about coffee and see how the production works!