Specialty Coffee Advent Calendar – 2019
Dec 21
Klassisk Julekaffe
Producer: Juan Manuel Sanchez
Origin: Naranjo, West Valley, Costa Rica
Roaster: Solberg & Hansen
Cultivar: White Honey
Process: Caturra & Catuai
Altitude: 1250-1350 masl
Taste Profile: Sweet and juicy coffee. Aroma of Vanilla, nuts and blackberries. Flavors of cocoa, caramel and red berries.
Roast Date: 27.11.19
Our classic Christmas coffee is a welcomed guest at Christmas and fits well with its full and sweet flavors. It's a coffee with wide appeal and fits well as a gift or daily go-to brew in your favorite Christmas mug.
The coffee is from Santa Anita Farm and is our classic Christmas coffee for the third year in a row. The farm has deep roots in Costa Rica's coffee history and is family run for four generations.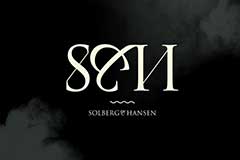 Solberg & Hansen
Location: Oslo, Norway
Established: 1879
Social: @solbergoghansen
We (Solberg & Hansen) are the largest and oldest specialty coffee roaster in Norway, yet keep their focus on the future. It has made us a pioneer in the coffee industry, both in Norway and internationally. We started travelling the world early in search of the planet's finest coffee districts. We see this as one of our most important tasks. Because of this, we can share knowledge and create long-term relationships with dedicated and skilled coffee farmers, farms and cooperatives.
This has contributed to a focus on sustainability and fair trade has been fundamental values in our part of the industry. Meanwhile, it is our main quality assurance. Through traveling and close cooperation can we follow the raw material all the way back to the coffee flower's first shot. It is thanks to this traceability that we obtain green beans and tea leaves that holds exceptionally high quality