Specialty Coffee Advent Calendar – 2020
Dec 24
🎄 Finca Inés Washed Gesha 🎄
Producer: Coope Victoria
Origin: West Valley, San Isidro de Grecia, Costa Rica
Roaster: Muttley & Jack
Cultivar: Gesha
Process: Fully Washed
Taste Profile: Floral, lemongrass, strawberry. Creamy round mouthfeel, elderflower aftertaste.
Elevation: 1600-1800 masl
Roast Date: 19.11.2020
Recommended Brew
31g coffee – medium/fine grind
500g water – 96-97degrees
Rinse the v60 filter paper / warm the jug
Add 31g coffee grinds to the v60. Shake a little to make it level and with a finger make a little 'well'/hole in the coffee (makes it easier to bloom).
Add approx 60g water to the coffee and swirl the whole v60/jug in your hands to make sure all the coffee gets wet and can 'bloom' (allow CO2 to escape) for 30-40 seconds.
Add a further 240g water to the v60 (total water now at 300g).
At around 1:45 – 2:00 mins add the remaining 200g water (totally now 500g).
Give a gentle stir to the coffee/water mixture in the v60 to sto it sticking to the sides and wait for the water to drip out. At around 2:30 – 3:00 your coffee is ready to drink.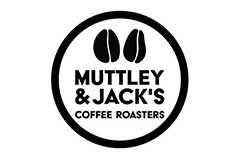 Muttley & Jack
Founded in Stockholm in 2017 Muttley & Jack's is a prize winning micro-roastery delivering hand-roasted speciality grade coffee to homes and cafes throughout Europe. We aim to live the values of quality, transparency and approachability in all that we do.
Whenever possible we spend time at origin, meeting with the people who grow and process our coffees. Our input helps producers to improve quality year after year and allows farmers to receive higher prices for their harvest. We do all we can to ensure that, from seed to cup, the coffee you enjoy has a positive impact on the farmer, the environment and you.
With an approach to roasting that is a blend of art and science, we take care to get to intimately know each lot of coffee that passes through our roastery, experimenting with different roast profiles until we reach the magic formula. Our aim with roasting is always to allow the unique characteristics of the individual coffees shine through and for you to enjoy the most delicious cup possible.