The secret to becoming a great roaster doesn't rest in only sourcing the best green coffee or creating lasting farmer relationships, it's also about listening to your customers' wants and needs. This month, we feature Kafferostare Per Nordby from Sweden, a roaster who commits to excellent relationships: sourcing, serving consumers, and everything in between. Similar to the Nordic tradition of specialty coffees, Per Nordby roasts in a style of "light and developed."
We interviewed Per himself via email to find out what makes him stand apart from the rest of the coffee roasters around him. The interview has been edited for length and clarity.
Describe your philosophy to sourcing the coffee you roast.
Per Nordby (PN): I have a transparent, often direct-trade relation with the coffee producers I work with. I aim to work with farmers that have an ecological, economical and social sustainable agriculture. I look for special lots with a high quality and individual taste profile. I travel to and meet with the farmers, millers and exporters I trade with to get to know them and learn how we better can work together.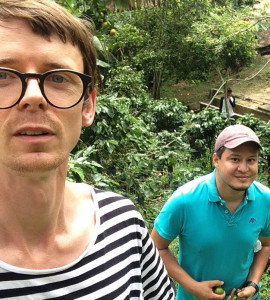 What do you think is the most challenging part of your job? How do you overcome the challenges?
PN: The biggest challenge is to make the end consumer, feel involved in the coffee chain. I try to share the knowledge I have and the information I know about the coffee, the farmer and the people involved so that whoever drinks my coffee can have a chance to end the cup with a better understanding. The only way for me to know if I succeed is by getting feedback, so let me know what you think with # and @.
What do you think is the one variable that home brewers forget about when making coffee? 
PN: I think some forget to wet the filter before putting the grounds in. I think some forget to measure the coffee AND the water to get an even ratio. I think some forget to time the process to keep track of the brew. But I hope all remember to always sit back and enjoy the coffee they drink.
Related to the previous question – What is your recommendation for home brewers for brewing your coffee?
PN: Use my recommended ratio on the back of the bag as a place to start, but explore and experiment to find a recipe that fits your taste. And again, remember to enjoy the coffee.
Thank you to Per for taking the time for this interview. We're sure our subscribers will enjoy your coffee!
The coffee featured in this month's KaffeBox include the below. To ease your brewing, Per Nordby provides recommended ratios on the back of their bags. These ratios are reached via the roaster's endless experimentations of brewing their own coffee. Most roasters do not provide recommended ratios or recipes for their coffee on their bag. Per Nordby uses these to demonstrate their commitment to their consumer.
February's KaffeBox includes:
[Filter] Incahuasi from Cusco, Peru: mature fruit, milk chocolate, green apple

[Filter] Kopakaki from Karongi District, Rwanda: juicy, grapefruit acidity, with hints of black tea and herbs
[Espresso] Crecencio from El Cedral, Honduras: fruity aroma, complex acidity, balanced body
[Espresso] Santa Teresa from Dipilto, Nicaragua: clean, mature, almonds, sweet
Title image from @pernodby's Instagram page.
Connect with Per Nordby on Instagram and Twitter @pernordby.
Connect with KaffeBox on Instagram, Facebook, and Twitter @KaffeBox. Be sure to tag your photos with #kaffebox. Enjoy your coffee!