Specialty Coffee Advent Calendar – 2021
Dec 24 🎄 God Jul
Chombi CCX
Producer: Altieri/Roger Pitti & Coffea Circulor/Ivica Cvetanovski
Origin: Callejón Seco, Boquete, Panama
Roaster: Coffea Circulor
Cultivar: Geisha
Process: Proprietary, Natural, Dried in cherry
Altitude: 1850 masl
Taste Profile: Champagne, Tropical fruits, Cotton candy, Elegant.
Roast Date: 19.11.2021
Altieri and Coffea Circulor joins forces to build a line of coffees to bridge the gap between what is considered coffee and sparkling white wine. This coffee investigates drying times and its effect on the Geisha variety. This lot is a subset from the 'Chombi'-plot, of the Altieri farm, Mimas Estate, co-named by Coffea Circulor and Altieri from the founder's grandchildren. It is separated and meticulously cared for to build a new sensorial spectrum in coffees.
These prize-winning coffees are grown on the Eastern slope of the Baru Volcano, surrounded by the virgin cloud forests of the Baru Natonal Park in an area known as Callejón Seco. This area consists of volcanic soil, drained on the slope of the volcanic mountain, at an altitude where winds from the Pacific and Atlantic Oceans collide creating microclimates different from the rest of the country.
The greatest extension of cultivation on the farm is Geisha coffee due to the great advantages that various microclimates create on the same farm. This, together with meticulous care of coffee traceability, ensures the best cup with special flavors through an elegant natural process.
This lot grows under shadow. After picking, it was placed in African beds for 21 days. Later, the coffee cherries are placed in a controlled temperature and humidity warehouse.
This prize-winning coffee is arranged by our dear friends the Altieri family.
Our World Brewers Cup recipe, One (1:1:1), for Hario V60-01/02 with Hario VCF-01/02 filters:
Coffee: 20g.
Water: 300g @ 93-95°C, TDS: 10-50 mg/l.
100g of 20 second pours in 3 total pours at 0:00, 1:00 and last pour at 2:00. Finish at 3:00.
Pour by pulsing in helix formation during 20 seconds, starting from the centre, 5 revolutions per pulse. Ensure no grinds persist on the filter wall in the last pouring pulse.
At 01:00, 02:00 and 03:00, confirm the filter bed is flat and uniform. Avoid generating cavities and craters.
Target a TDS reading of 1.40±0.02.
Adjust only grind size and water temperature.
Grinding: Target 600-800μm. Example: 28 turns from the finest setting on Comandante.
If the flow ends past each minute, adjust your grind settings to finer and respectively for slower flow.
The recipe, technique and formula is singularly linear and time efficient. Learn more about linearly up- and downscaling our recipe here.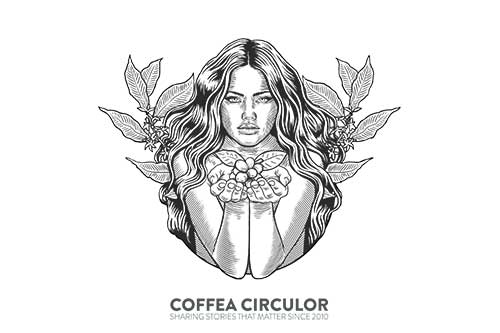 Coffea Circulor
We believe it is important to take responsibility for how people, the environment and the society are affected by our daily choices and operations. We developed our goals early in 2009 before even acquiring a coffee roaster. Through our past work in the UN-system, we ensure our ambition, intention and ideology is anchored in UN's Sustainable Development Goals.
Our potential lies in our ability to influence our clients and their users by telling stories that matter. We contribute to profitability and sustainable development through cost savings, optimization of the coffee value chain and above all reducing the consumption of finite resources.
We actively strive to reduce our own impact on the environment by having an open dialogue about what is important from a sustainability perspective related to coffee. We believe you can make an important difference too. Ending poverty does not only entail finances. There is a larger barrier to tackle such as inequality, knowledge and respect.Read more about Coffea Circulor's endeavor of sustainable production
http://www.coffeacirculor.com/
Loved this coffee?