Gringo Mid-Month KaffeBox Feature
Bag size: 200g
Roast: 15 March 2021
Check the box alongside any Out of Stock products and update the waitlist to be emailed when those products become available
🚚💨 Daily shipping from Sarpsborg, Norway ❔ Questions? We're here to help ✔ Free shipping within Norway for customers with an active KaffeBox subscription
Description
El Vergel Anaerobic Geisha
Finca El Vergel is located in Algeciras Huila, Colombia, and run by the Rozo family. The farm is located at a very high altitude – 1920 meters – and consists of 68 hectares of land; 15 of these are planted with coffee-trees.
A few years ago, each sibling inherited a piece of land and one of the sons – Robinson – decided to invest in planting 100% Geisha trees, this lot comes from these trees.
In this particular micro-lot, the coffee was first dried on African open beds for 24 hours before the cherries were placed in closed barrels for 70 hours; a so-called anaerobic fermentation. The pressure that is then formed, forces the natural fruit acid and juice found in the berries into the coffee beans. The method creates great taste complexity and the result is a delicious coffee with a character of caramel, peach, blueberry and tropical fruit.
Location: Algeciras, Huila, Colombia
Farm: Finca El Vergel
Type: Geisha
Altitude: 1920 meters
Cultivation: Shade
Processing: Anaerobic Natural
Drying: Sun.
Harvest period: August 2020
Size: 68 hectares, of which 15 hectares are planted with coffee trees.
Bag size: 200g
Roast: 15 March 2021
Flavor Profile: Tropical Fruit, Caramel, Blueberry
Colombia el Roble Honey Geisha
This is the third lot of Geisha Gringo has roasted from the Chilito family, who run the farm El Roble in Huila, Colombia. This is the first time El Roble has process the coffee as Honey, where the beans dry and ferment in their own sugar. The result is a perfect combination of the Geisha variety's elegant and complex light character, and all the sweetness and fullness that the Honey method provides.
El Roble has a relatively cold climate, which helps with a slower ripening of the coffee berries. This increases the sugar content of the coffee and gives a rounder, more complex, and delicious coffee. We really love Geishan from El Roble and are very proud to be able to offer coffee again.
Location: Huila, Colombia
Farm: Finca El Roble
Type: Geisha
Altitude: 1750 meters
Cultivation: Shade
Processing: Honey
Drying: Sun
Harvest period: August 2020
Size: 3600 Geisha trees
Bag size: 200g
Roast: 15 March 2021
Flavor Profile: Strawberry cream, Cranberry, citrus
Related products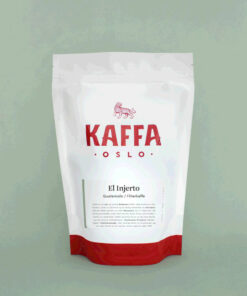 Out of stock
Previous limited editions